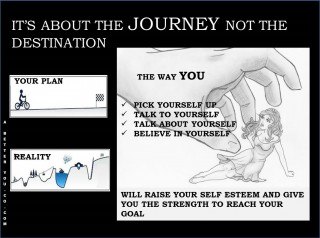 We all have dreams.  Some of us dream big, and others dream small.  Either way, dreams and goals are a very important part of all of our lives.
We often link our happiness to achieving these goals, and they have a significant impact on our self-esteem.
For example, the day we feel like giving up, and then pull ourselves together and carry on, is the day we develop a strength we didn't know we had within us.  This strength never leaves us, and we build on it day after day and week after week.  It is this journey towards our goals which so often help us to develop into a better person.
So whatever our dreams may be, the journey will be worth it.
Whether we aim to lose a few pounds, start a new career or travel the world…with a small leap of faith we can start our journey today and start working towards our goals.
And when we get there…then what?  That's the time to take a while to enjoy our accomplishment, to live in the moment and to enjoy the benefits.  It's so important to recognise our own progress, to look back at our journey and see just how far we've travelled.
Only when we quietly observe our progress, as if watching a cloud drift away in a blue sky, will we truly see the changes we've made in our lives.  We'll notice a difference in how people talk to us, and how we talk to ourselves!
This is mindfulness.  This is what raises our self-esteem and takes us to our next goal, allowing us to go from one great achievement to another!